Construction phase 1
The first day was horrendously long and "shiong"; endless trips of transporting soil from the pit to the "tortise house". the pit was incredibly big and many of us wonder what is the school gonna do with it. Students, driver, teachers and directors join the team (took over from us in fact) on building the computer centre and library. Full marks for community spirit!
Days went by and the job got easier. A beautiful young lady named Surnya is teased by her girlfriends to be my secret admirer and the team put her as the president of "KFC" (thanks yongtai).
the village reminded me of Singapore 30-40 years ago, the activities and sights that Dad reminds all the time. despite the muddy roads and filmsy houses, temples remain awesome; landscaping effort of super high standards. Look across the plains, and you can see nothing but tall temples in perhaps 10km away?
life now is like : construction - lunch - construction - games with kids - bridge and daidee - sleep. and the kids are coming every night!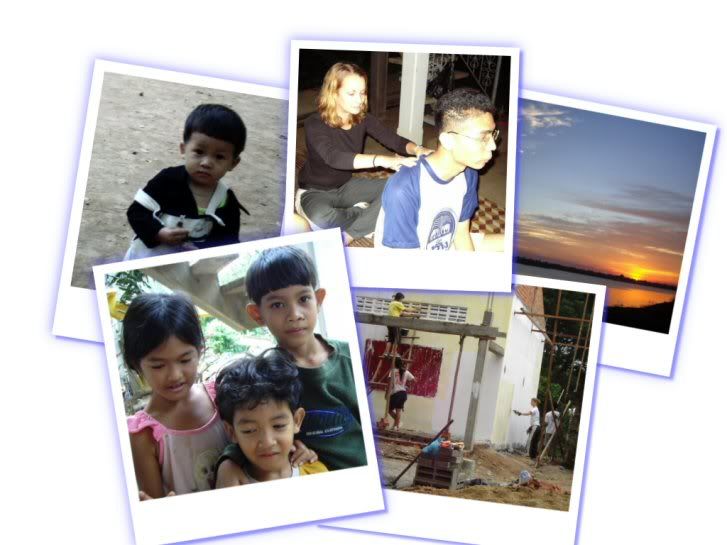 The kids' favourite hit!
Take me to your heart
Hiding form the rain and snow
Trying to forget but I won't let go,
Looking at a crowded street,
Listening to my own heartbeat...
So many people all around the world
Tell me where do I find someone like you girl...
Take me to your heart, take me to your soul,
Give me your hand before I'm old,
Show me what love is - haven't got a clue,
Show me that wonders can be true,
They say nothing last forever,
We're only here today,
Love is now or never,
Bring me far away...
Take me to your heart, take me to your soul,
Give me your hand and hold me,
Show me what love is - be my guiding star,
It's easy - take me to your heart...
Standing on a mountain high,
Looking at the moon through a clear bluesky,
I should go and see some friends,
But they don't really comprehend...
Don't need too much talking without saying anything.
All I need is someone who makes me wanna sing...
-kelvin