come and PLAY!!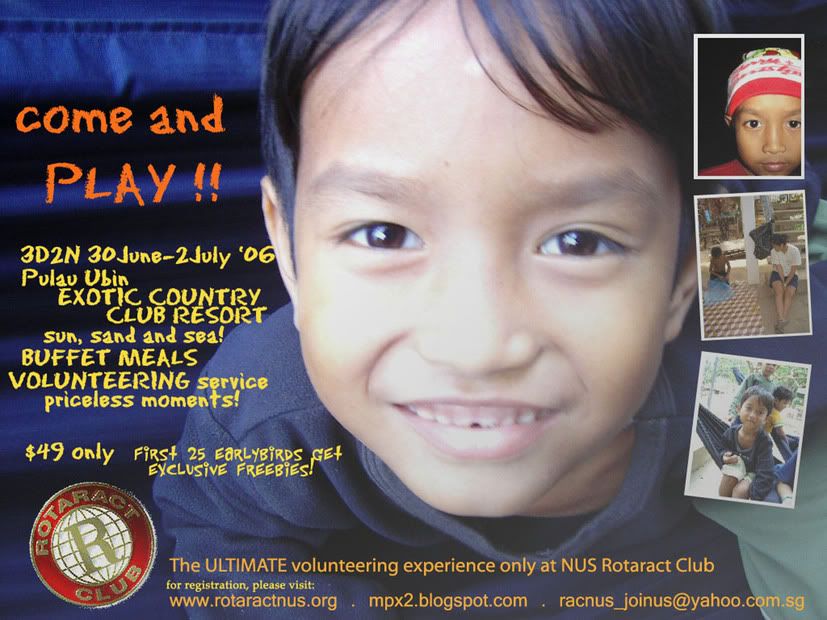 Hello guys!!
Thanks a million for your interest in our camp! First of all, let me extend my warmest welcome to all of you for joining the BIG family of Rotaract Club NUS!
Be assured that this particular camp is going to be the
MOST HAPPENING
,
MOST HIP
,
MOST EXCITING
,
MOST FULFILLING
and a very
MEANINGFUL
F.O.C around! most importantly, it's not on campus!!
The camp committee is working their ass(es) of to provide you thrilling games, comfortable accomodation, delicious buffet meals, trendy orientation t-shirt and a very meaningful volunteering experience. all these are brought to you at only $49!! Come in group of 4s and you pay only $45 per person!
What are you waiting for?
Come and PLAY!!!
To make registration easy for you and me,
Please write in to racnus_joinus@yahoo.com.sg.
Provide your
1. Name
2. Matric No.
3. Contact No.
4. Valid email address
5. T-shirt size (36/38/40/42/44)
6. Food preference/non-preference
We will then send you instructions on payment and other verification. If you sign as a group, please send your particulars in a single email.
Do check your email regularly!
Should you have any query, please email me at tthk84@gmail.com.
See you guys soon!!!
Kelvin